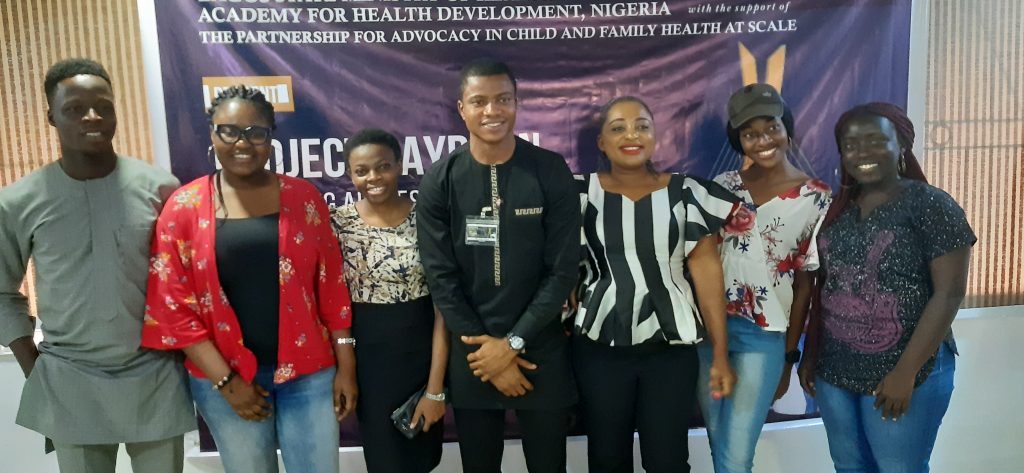 The Academy for Health Development in conjunction with the Partnership for Advocacy in Child and Family Health (PACFaH) at Scales partners with eight youth-led organization, including Sustainable Impact and Development Initiative, Sparkle Foundation, Gender Mobile Initiative, Improved Sexual Health and Right Advocacy Initiative, Safe Hands Initiative, Safer Hands Initiative, Society for Information and Human Advancement Initiative, Paaneah Foundation and Youth Network on HIV-AIDS in Nigeria, to advance the course of family planning and promote its agenda in Lagos state.
A call for expression of interest was made to youth-led organizations based in Lagos, with over 10 members, who are engaged in young people program implementation; youth sexual and reproductive health; HIV/AIDS, family planning, and youth advocacy. SID Initiative was found eligible alongside the 7 other organizations with a track record that meets the stated criteria.
Comprehensive training on leadership skills, developing high impact action plans, Lagos State family planning policies and programs, developing an issue brief, and policy brief on family planning issues in Lagos, amongst others was held for the Family Planning Youth Advocates. This workshop took place from the 24th – 27th September, 2019 at the Bible Guest House, Palmgroove, Lagos.
The following persons represented SID Initiative at the workshop:
Ms. Elizabeth Williams – Executive Director
Ms. Funmi Taiwo – Communications Manager
Mr. Julius Ilori – Partnership Manager
Irene Agade – Volunteer
Blessing Adewunmi – Volunteer
Furthermore, the selected Youth Advocates would be engaged in program implementation, conducting research, advocacy visits to policymakers and duty bearers on Family planning in Lagos State during the period of the project.
We believe that as young people and an organization with potentials for impact in the Adolescent and Youth Sexual and Reproductive Health (AYSRH) field, we would be able to identify, track, and advocating for youth-focused family planning policies in Lagos state.