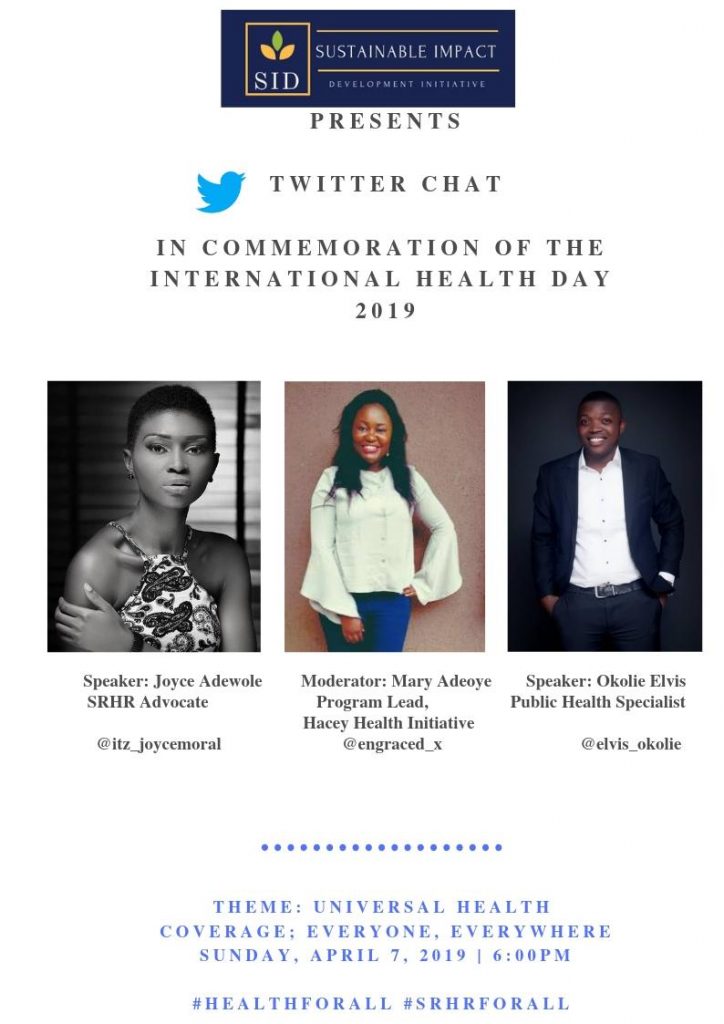 World Health Day is a global health awareness day which is celebrated every year on the 7th of April. The day provides an opportunity for the world to focus its attention on the most important aspects of health including Sexual Reproductive Health.
The theme of the 2019 World Health Day was "Universal Health Coverage: Everyone, Everywhere", a repeat of the 2018 theme, with an emphasis on the idea that "Universal Health Coverage is the WHO's number one goal".
To commemorate the 2019 World Health Day theme, Sustainable Impact and Development (SID) Initiative organized a social media activity in the form of a twitter chat with the hashtags #SRHRFORALL #HEALTHFORALL.
The twitter chat involved seasoned experts and youth advocates on Sexual Reproductive Health. They include Ms. Joyce Adewole, SRHR advocate, Ms. Mary Adeoye, Program Lead, Hacey Health Initiative, and Mr. Okolie Elvis, Public Health Specialist.
Through this activity, SID Initiative called all relevant stakeholders i.e Government, CSO, NGOs, Donor Organizations, and Young People to prioritize Sexual Reproductive Health services towards achieving universal health coverage.