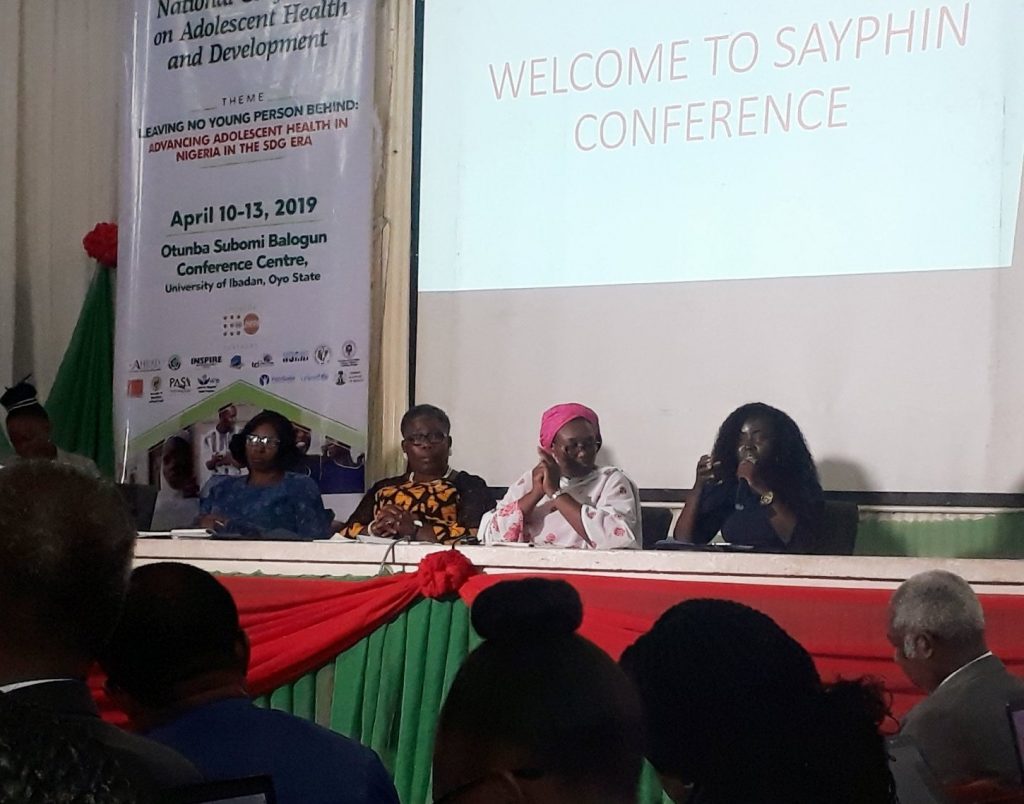 The Sustainable Impact and Development Initiative participated in the 1st National Conference on Adolescent Health (NCAH) which was organized by the Society for Adolescent and Young People Health in Nigeria (SAYPHIN). The conference took place from the 10th – 13th of April, 2019 at the Otunba Subomi Balogun Conference Centre, University of Ibadan, Ibadan, Nigeria.
The conference aimed at bringing a significant number of stakeholders together to address key issues regarding the health and development of adolescents and young people in Nigeria.
SID Initiative was represented by the Founder and Executive Director, Ms. Elizabeth Talatu Williams. She served as a panelist on the panel tagged "Integrating Youth Friendly Health Services into Primary Health Care centers" from the youth perspective.
The session which was chaired by Mrs. Adenike Esiet, Executive Director, Action Health Incorporated also had the following persons on he panel; Mrs. Fatima Mamma-Daura representing UNFPA Nigeria, Dr. Adefunke Adesope representing the National Primary Health Care Development Agency and Mrs. Wunmi Okedara representing Life Builders Ibadan.
The panelists discussed the role of the Primary Health Care Board, public sector, UN agency i.e UNFPA and other international development partners towards ensuring the integration of Adolescent Youth Friendly Health Services into Primary Health Care centers in Nigeria.
Ms. Elizabeth Talatu Williams, Executive Director of SID Initiative spoke about the barriers young people face in accessing adolescent youth-friendly health services and ways in which young people are currently engaged and can be engaged to ensure their access to adolescent youth-friendly health services. She also said,
Programs and services for young people should be designed by young people, with young people and not for young people.
Overall, service providers were tasked on the need to improve the perception of young people about the facilities and services provided for them. This is done by ensuring that the services tick the boxes of confidentiality, affordability, privacy, zero stigma and accessibility.
The conference was a success with a large turnout of several stakeholders including young people. The next conference is slated for 2021 in Abuja, Nigeria.